We were going to a show. So, after he came home from work, it wasn't surprising to see Brian parking on the street in front of the house instead of in the garage. But something was up. He unlocks the front door. Then back to the car. What's he doing? He probably stopped for groceries. I should help bring them in, but I don't feel like it. I am a terrible wife.
Then I see it. He finally brought it home after weeks of preparing me for the possibility. There was this plant that Brian adopted after it had been abandoned during the most recent reorganization at work. It wasn't doing so well. It used to be by a window, but because of the construction now it isn't and now it's sadly in decline. It needs sun. Brian is fine. Don't worry about him. He can get up and take a walk. He assured me of this. But that plant! It's just stuck there in this artificial light. Maybe he'll bring it home. He never does.
…until he does. Another branch shriveled? Did too many needles fall? Did they pile up on January and refuse to be casually brushed aside? And now Charlie Brown over there is unloading this thing that is cramped in the back of his car, because while a grown man could sit relatively comfortably in the back of a Prius, this giant plant with its sprawling limbs is too big.
I'm always trying to stop things from coming into the house. I enjoy a good estate sale and am always imagining my own. When homes are disassembled and stripped of life, a whimsical collection of birds taken out of context and arranged on rented banquet tables, or a certain type of glass or enough pencils to last a hundred years can seem more like a window into the mind of a crazy person than anything beautiful or useful. It's hard to win this battle – keeping our heads above the stuff – when you're fighting against someone who has bonded with a tree. But I honestly cannot imagine where we are going to put this thing. A spare corner eases my mind and I was just beginning the enjoy the fruits of my labor. But what are the options? I fear the plant is going to bring the room's energy down, like so many of those plants we saw in the photos of those houses for sale when we were in the market. Searching real estate sites, Brian and I used to laugh about how sometimes we weren't really looking at a house so much as we were looking at people's stuff. Sometimes, there might be a pet in the picture. A pet! Like I'm going to get a free dog if I buy this house? If the idea is to give me the impression that this is a good place for a family, why not stick grandma in there too? In any case, I wanted a fern. There is an empty pot on top of the built-in bookshelf that awaits its arrival. But this? This is too much. Too much.
The next day, Saturday, we spent some time rummaging for something that could elevate the new plant. A column, probably out of a church, from Architectural Antiques was not an option at north of eight hundred dollars. At one furniture store where we did not expect to find anything except for maybe an idea, a salesperson offered us mimosas. Furniture is art. Light fixtures and lamps are art. Rugs. Art. It makes sense that we would causally wander the gallery with our cocktails enjoying the "movement" of a particularly sleek sectional, knowing that it would never fit into our living room. I really just wanted to look at junk, parts with which to do something. I say this as if I were handy, as if I know how to weld stuff, as if I had the tools to make uniform cuts to make uniform slabs of wood. This is a dream. But we can dream. I still like to scrounge and imagine what could be done, if only…. if only.
We fail to find anything. We run out of ideas about where to look. I had just been to the Goodwill. I doubt there's anything there. I'm kind of tired, but I want to "party on", as I like to say to Brian whenever I'm feeling restless. I suggest we go to The Lab, a brewery near our house. There you can pour your own beer and pay for it by the ounce, which is perfect because I just want a taste.
As we walk into the place, a pair of queens are running a game of Bingo. A woman, part of a foursome at the next table, tells me that it's free to play. She must have been disappointed when I did not leap up to fetch a card and a plastic cup full of Bingo chips. At one point between games, the queens start to lip sync, each taking her turn. People are holding up bills. The second act is racy. After a high kick it isn't long before she sheds the 50's-ish sheer red polka-dotted dress that sparkles to expose a bodysuit that looks as if it had been splattered with paint. The crowd howls. She does the splits. The cheering defies the time of day, a lazy afternoon, though it is different from the canned excitement of daytime television, which I loathe. Shouldn't we be at a night club? A man on the other side of the room from where we are sitting is waving money. But he fails to get the dancer's attention because there's apparently too much money to track. I am mildly stressed by this, worried that the man feels rejected and wondering if Marilyn Monroe will ever get her five dollars. The dancer approaches the foursome next to us. They are eating up this odd mix of Bingo and bachelor party where at one point, the dancer pretends to spit into her hand and briefly simulates something that I will not directly say here, but it suffices to say that it made a grown man blush in front of his friends who were roaring with laughter.
And just like that it's back to B-12 followed by whatever joke, story, fact or memory is triggered by the number. The dirtier the better. Of course, some numbers are obvious.
Someone comes around with a free sample of some kind of "super food" that has been juiced, some kind of berry. I didn't catch the name of it, though it was repeated a couple of times. It's an antioxidant. What else is there to know? It's good for you. This particular sample has been mixed with alcohol. Try it! Later I will be mad for a few minutes thinking of the ridiculousness of it, but not as mad as I was about the show we saw the night that Brian brought that plant home and the utterly pretentious discussion that followed it.
The friendly – possibly drunk by now – free-bingo-cards! woman who had first spoken to us when we arrived leans over to me with a comment every now and then. She points out the entertainment value in watching people walk through the door to find the place in stitches, helpless against a Barbara Streisand perm, clear stilettos, and a pink rectangle-of-a dress that can barely cover a snatch. She's right! Just look at those faces. Some unsuspecting dude walks in and confusion shifts to surprise and then delight. "Web cam!" I said. I could watch that all day.
That evening at the YMCA, Brian and I are talking as we walk the track, dodging teens who are playing basketball. I had regretted that we frittered away the day looking for a lousy plant stand that probably doesn't exist. I am certain that he would have preferred to stay home to read. But he says that life isn't supposed to be efficient. It's probably one of the nicest things anyone has ever said to me.
When we get home from the gym, Brian goes upstairs to start a new book. I grab the iPad and do a search for DIY plant stands. I tried something with the idea of getting a sense of how high the plant should be, what kind of footprint would work, etc. You know, a test. It turns out that I liked my prototype better than I would have expected.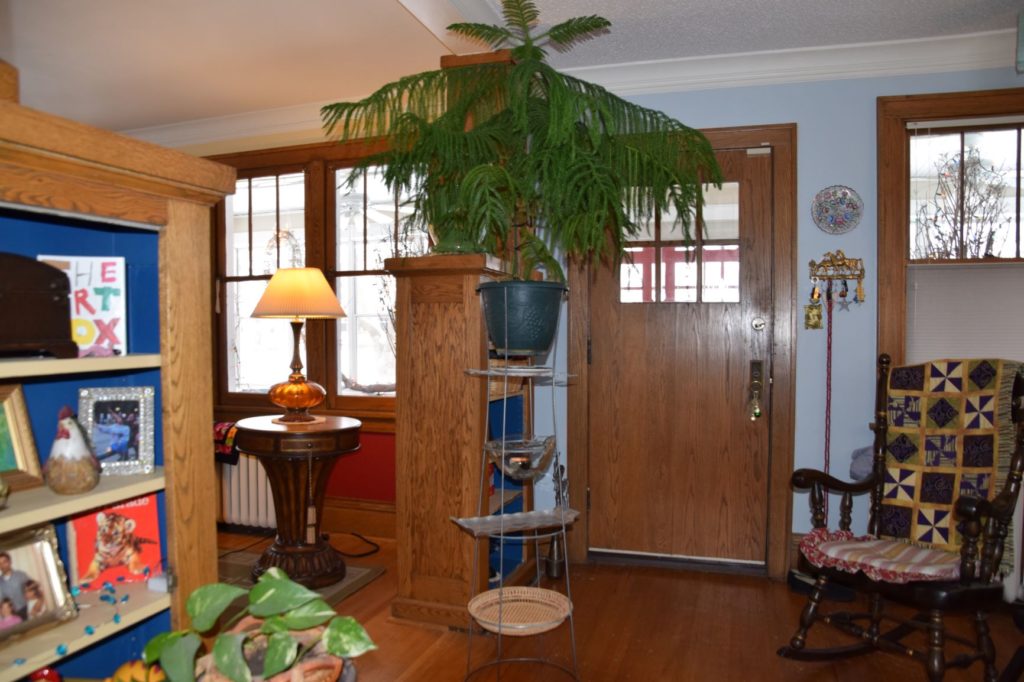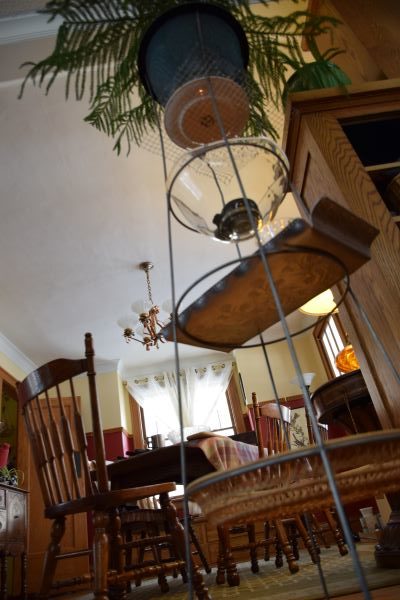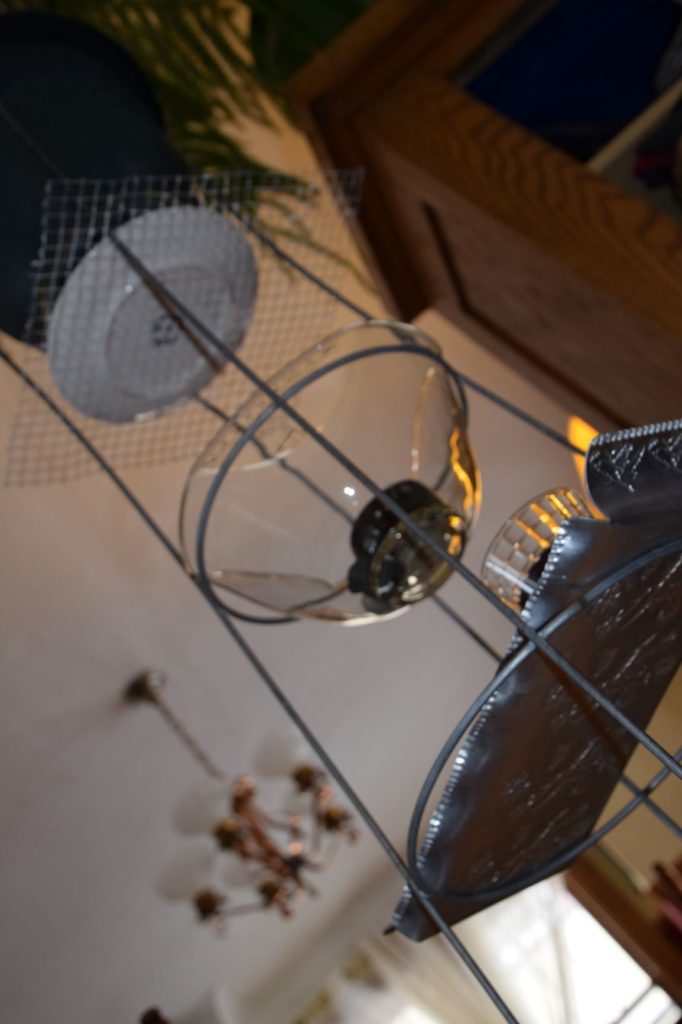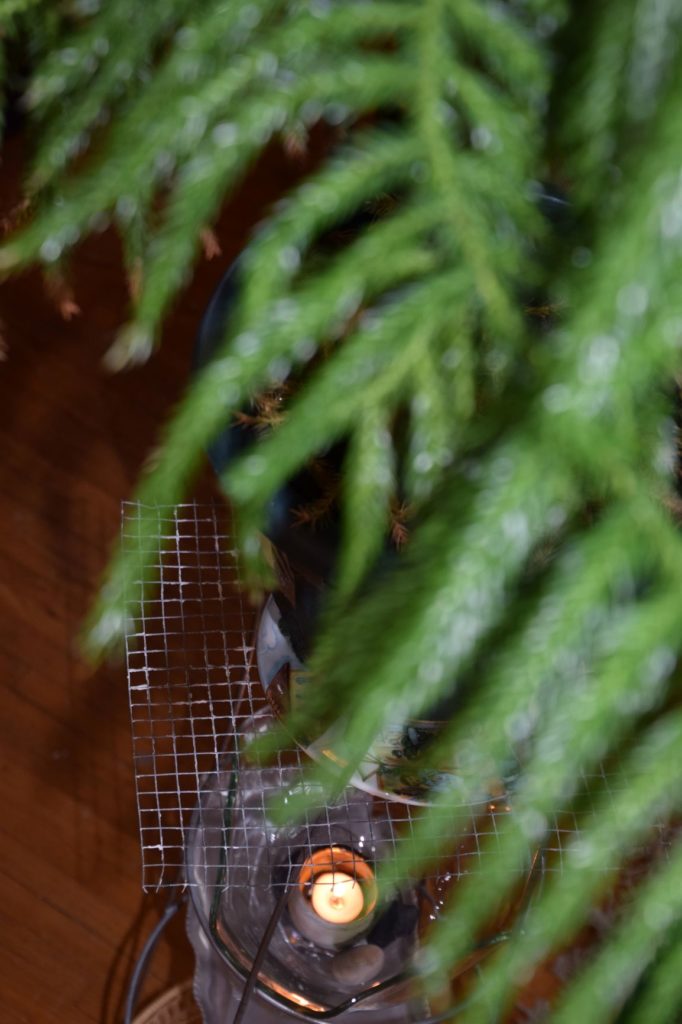 I wish the pictures did this justice. It's pretty sweet and didn't cost anything on the current budget. I just used stuff I had around the place. If I stick with this idea, I'll reinforce the connections between the tomato cage rings and legs with some lashing. Maybe I'll paint it. Maybe I won't. I'll cover the bottom ring that rests on the floor with something to make it easier to slide without scratching the floor. I was thinking of using some old socks that have been cut into loops. (I could probably write a post titled "100 things to do with socks that have been cut up into loops." Of course, first on the list would be to make a potholder using one of those potholder looms you might have had when you were a kid.)
Or maybe I will start over. Maybe this is a prototype. I've seen plant stands and little tables framed with copper pipes. I do have a saw and some sandpaper… stain to use up…
It's a good thing that efficiency is overrated.