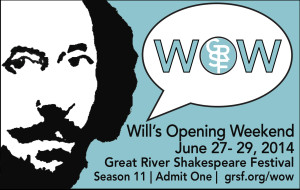 I love you, Winona! What a pleasure it was to be whisked away by Fran and Margot to the home of the Great River Shakespeare Festival in the middle of the week. The Merry Wives of Winsor was a thoroughly enjoyable production and ensured that we will be back for more. You packed the house and now I know why.
It's a beautiful drive from the Twin Cities to Winona State University that has been hosting the festival for the past eleven years. What? I could have seen Yo-Yo Mah for twenty-five dollars at your Beethoven Festival? Now you're just bragging. No wonder the inn keeper was bustling on air when she put on that fresh pot of coffee. I thought she might actually do a pirouette.
On the way down, we cut over to the Wisconsin to snake our way down the river to Stockholm. We saw eagles swooping just off the bluffs and that never gets old. After wandering through an art gallery where I was sorry that my parents had not been with us as I saw a million beautiful things they would have loved, we cheated and enjoyed our dessert before dinner at the Stockholm Pie Company. Then it was to the Minnesota Marine Art Museum. What a treasure. Again, the woodcut prints by Nick Wroblewski made me wish that my parents could have made the trip. My dad would have been impressed.
We didn't do anything especially noteworthy for dinner, although my spinach cranberry salad at the Green Mill hit the spot. Then it was to the show (delightful, as I said) and back to the motel. Before leaving the next day, at breakfast we learned from a Harley rider who was waiting for her man to get out of bed that there was a lot more to see. A bank with stained glass windows? I won't miss it.
Thanks for a lovely day off, Winona.