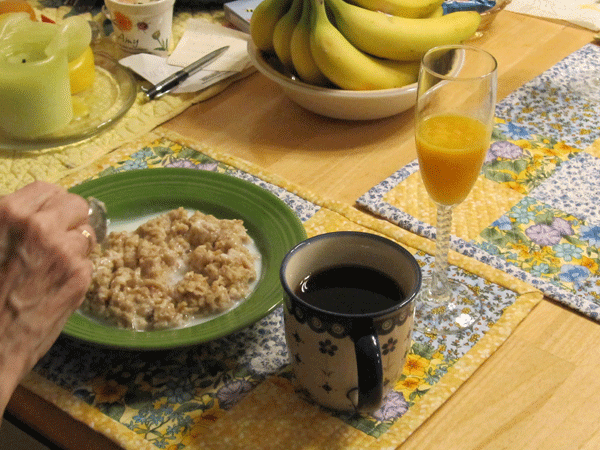 I'm going to try making some lists, adding to them as I get ideas. I could start with a list of lists:
What I Like about Him – inspired by my cup of coffee and the sound of the stairs creaking under his weight
Titles for Letters to the Editor that I'll Never Write – inspired by an Environment Minnesota canvasser who rolled his eyes at me as he left without my signature or any money – the first thing on the list would be "Do politicians ever do the right thing just because it's the right thing? Or are we really doomed unless I pony up to counter the pressure you're getting from corporations? An open letter to Sen. Amy Klobuchar".
On the Run – How corporations let you know that you're making a difference – inspired by Monsanto ads on television
Why I'm Looking Forward to Winter – inspired by a similar list my friend Lucie and I made to cheer ourselves up. She has since moved to Phoenix. It appears that "wool sweaters" moved from "Why I'm Looking Forward to Winter" to "Things I don't miss about Minnesota."
Apps I Might Use if I Had a Smart Phone – inspired by the dead rabbit I saw in the road on the way back from the community garden this morning – I imagined that a city worker would eventually take it away if another animal didn't get to it first – I thought a person could use a smart phone to identify the location of roadkill, hence creating a map to make such clean-up more efficient
Podcast Notes – inspired by my plans to produce a podcast – it would have subject and format ideas as well as things I like and don't like about other podcasts – on the top of "don't like" would be the inability of many hosts to let a guest (the reason I'm listening to your stupid podcast) finish a sentence.
Why lists? I just like the idea of them. Maybe having a place to put stuff will calm my mind or be a place to go whenever I feel empty and in need of a creative spark. George Carlin was a list maker, wasn't he? I'm not thinking about The Seven Dirty Words You Can Never Say on Television. I'm thinking more about routines like the "Advertising Lullaby". Unlike Carlin, I'm not collecting lists for the purpose of writing comedy. Oh, I'd love to be a comedian, but I'd settle for being able to hold your attention long enough to tell you something without you checking your text messages or looking up a fact with your smart phone because I mentioned that the corn chowder has chorizo in it and you want to know – right now – exactly what spices are in it.
So this list is "What I Like about Him." I'll add to it over time. Look at it as another form of journal writing (this calls for dating my entries, right?).
What I Like about Him
September 3, 2015
Typically when I get up, I have a nice breakfast before I do much of anything else, with the exception of putting the dishes away while the coffee brews. On a rare occasion I'll be sucked into my computer before breakfast and even before the coffee is done. For example, today I'm trying to wrap up a website for a client and I wanted to get some tasks out of my head and onto a…list. Is it clear that I'm a list maker? …in any case… On those days, Brian might notice that the coffee is done. It's hard to miss because the coffeemaker beeps no less than seven times when it's ready, which reminds me of another list I need to make: "Shit that we don't need!", to which I will add, "Cars that honk when you lock the doors using a remote".
…so he notices the coffee is done. In the meantime, I've gotten lost in whatever project I'm doing. What does he do? He brings a cup of coffee to me in my office. No matter how many times he has done this, it always surprises me and it's always a little strange to see him – not a coffee drinker – standing there bare-chested with a cup of coffee in his hands. It's no stranger than if he had been smoking a cigarette or had served me a McCafe from a drive-thru window. Has he taken note of the official coffee cup order of preference? Knowing him, it's possible. And typical of me, I can't say for sure.