Pulling out the 1970s fireplace insert a few inches would have been an easy way to expose the crumbling tile and mortar from inside the chimney. The requisite inspection before we closed on the house almost six years ago missed it. The repair estimate would have made Mr. Rogers kick himself.
It was Al who would finally dislodge the feelings of regret that could be triggered by something as mundane as a commercial for cat litter.
"Seven thousand dollars! We were screwed!"
"It happens." Al said.
"Yeah, but…"
"It happens."
"Our realtor should have…"
"It happens." He said.
"Shouldn't the inspector known to have…"
"You buy a house and the boiler goes out. Cha-ching! You discover that every window sash in the place is completely shot. Cha-ching. The carpet is hiding blemished floors. Cha ching. Welcome to home ownership. Did the inspector do his job? It's hard to say. Do these things get missed? All of the time. Would it have changed your decision? I doubt it. Did you overpay? Maybe, but probably not by much. Do you love your house? Forget about the rest of it."
Letting that sink in, while counter to my appetite for impossible justice that can turn back clocks, was a tremendous relief.
While other priorities would compete with it and while Brian never shared my enthusiasm for fixing it nor my feeling that a fireplace you couldn't use could fill a room with a certain kind of emptiness, this particular restoration project was never a serious point of contention. And yet I had the feeling that when I did finally turn my attention to it, I would need to convince him that the time had come for this investment. I would bring it up and he would make that face.
Convincing anyone of anything can be tricky. It would be better if the worthiness of a good idea were self-evident. It's particularly tricky for me because giving up persuasion was a deliberate choice prompted by a letter I received out of the blue a long time ago.
An old friend from the Minnesota for Dennis Kucinich campaign wrote to me – one progressive to another – to ask that I join her in supporting Al Franken for the U.S. Senate. She assumed that I would agree that Franken was the real deal while I couldn't believe that a real Liberal would ever be taken by him. In response I would make the case for a better candidate, one who was actually worthy of the support of anyone who had ever believed that holding rush hour vigils on a bridge in sub-zero weather could transform the bleary-eyed commuters who chugged along on the freeway below.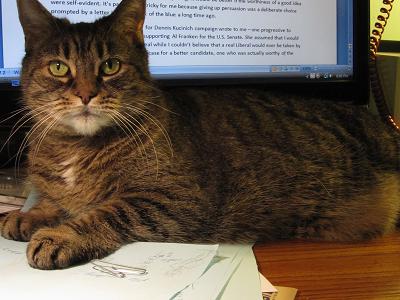 Hearing the clacking of the keyboard (in these moments I miss the zing of the old fashioned typewriter), Brian quickly sized up the situation and accused me of "bickering on the listserv." Stretched out on top of the desk in front of me, even the cat paused to question whether this was really a good use of my time, but then quickly dropped it and went back to angling for tummy rubs. So while Brian fried eggs and Lester Young set a mood suitable for dozing tabbies and giant snowflakes drifting to the ground outside the window behind me, I continued to fake my way through a second and third draft of my counter.
My arguments fell flat. Trying to convince someone to see things as I saw them, especially where it came to politicians and the abstractions they espouse, made me feel tired. So I quit. I had a nice breakfast and never thought about it again.
It never came to arm-twisting. One Saturday morning I asked Brian to help me measure the fireplace, which he happily did. I suspect he knew what I had in mind, but I could not detect the dread I had anticipated. Instead of hashing it out, he set to carefully noting the measurements in his famously perfect printing and within an hour we were on Franklin and 29th looking at wood burning stoves.
Recognizing my debilitating hatred for shopping and making purchasing decisions, Brian quietly filled in the gaps so that we might enjoy a fire before the summer rolled around again.
I'm still letting that sink in.
---
So, we've narrowed down our search for a fireplace to two options. Choosing one has been difficult because I like each for different reasons. Feel free to weigh in.